Classroom Showcase - 8th Grade
External pages are not endorsed by Beatrice Public Schools.
Session 1
Biscuit Basics (2018-19)

Students practice using various tools as they proceed to make some buttermilk biscuits. Added to their tool box were biscuit cutters created by each student using a new Technology program and printed off with the 3D printers. New terms and following quick bread directions were also demonstrated.
​
Fruit & Vegetables on Trays (2018-19)
After viewing videos on various ways to cut and present fruits and vegetables, 8th grade FACS students searched websites for some creative fall fruit & vegetable tray ideas. Groups then selected a favorite and brainstormed how they could reproduce the idea using fruits and vegetables, along with terms and tools practiced. Final results were fun to prepare and amazingly presented. BHS Foods classes and a few staff & administrators will be the judges for this year. "TOP" presentations went to the following . . .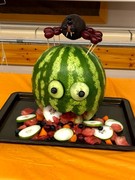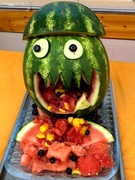 Preschool Field Trip - Playtime and Careers
Students visit the BPS Preschool program and St. Joseph Preschool. They were able to interact with the students and get first hand experience in a child care career. Students were able to view classrooms and teachers at work. A few felt like this would be a good career choice, but others were not sure. Either way students enjoyed their visit to the preschool!
Sewing Scenes
This year marked the first year to order sewing projects from our Beatrice fabric store - Quilt Stitches. The owner - Ann Frase - searched for project ideas, started writing up directions, and came to school to help students make choices for color designs. Students were encouraged to go to the store and actually pick out their choices. Projects were selected and employees of Quilt Stitches put together a kit for each student.
After a little review, students began to read and follow directions. The most difficult part was measuring - a task that most students do need more practice to improve.
But slowly projects were completed - Thanks to several family members that volunteered to help out! So here are a few results . . .
Session 2
Fruits & Vegetables
Students viewed and practiced various cuts for their fruit and vegetable plates. Here are a few cuts tried . . .
And our Holiday Tray winners for 2nd quarter . . .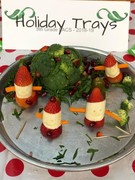 Sewing Scenes
Projects were ordered. The sewing scene was reviewed and projects were started. Slightly larger classes meant more questions and less assistance. However, we were once again able to get some great volunteer help - so "THANK YOU!" to all that helped to answer questions once again! A few projects did not get quite done before Christmas, but slowly the end is near!
Time to View a Career in Child Care. . .
Visiting the pre-school helps to give the 8th grade classes a tiny peek of careers related to kids. This quarter they again visited the Beatrice Preschool or St Joseph Preschool facilities. Playtime was the best, but seeing the staff interacting with kids also game 8th grade students a "More Upclose & Personal" view of an optional career.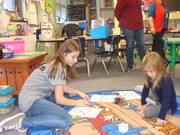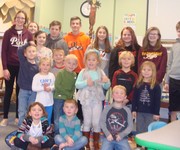 Session 3
Session 4
Return to Classroom Showcase Table