Classroom Showcase - 8th Grade
External pages are not endorsed by Beatrice Public Schools.
Session 1
Biscuit Basics
Students practice using various tools as they proceed to make some buttermilk biscuits. New terms and following quick bread directions were also demonstrated.
​
After viewing videos on various ways to cut and present fruits and vegetables, 8th grade FACS students searched websites for some creative fall fruit & vegetable tray ideas. Groups then selected a favorite and brainstormed how they could reproduce the idea using fruits and vegetables, along with terms and tools practiced. Final results were fun to prepare and amazingly presented. Pictures of each were sent to the High School FACS department and all Food classes voted on their favorite fall presentations. The competition was close, but in the end 4 were selected as the top winners and a few as honorable mentions . . .
Top Votes went to. . . Halloween Skull and Eyeballs and The Halloween Tray
Coming in as Runner Ups . . . The Watermelon Grill and Owl
Also receiving Honorable Mention. . . Pumpkin Head, Watermelon Football Field, and The Skeleton
Preschool Field Trip - Playtime and Careers
Students visit the BPS Preschool program. They were able to interact with the students and get first hand experience in a child care career. Students were able to view classrooms and teachers at work. A few felt like this would be a good career choice, but others were not sure. Either way students enjoyed their visit to the new BPS preschool program.
View sewing projects completed by session 1 FACS students.
Session 2
Biscuit - Show How - Students practice using new tools and demonstrate an understanding of some new terms while preparing biscuits.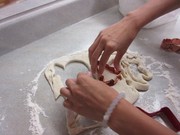 Fruit &Vegetable Holiday Trays
Students practice cutting techniques as they arrange a relish tray for the holidays.
View Slides: https://docs.google.com/presentation/d/13VK97sDhV2RakRiX6TrWvSqZRbXVCh67svXJWhUbLyU/edit?usp=sharing
Students observe staff as they keep kids safe and on task learning as they play and interact with others.
View our winter sewing scenes!
Thanks to all that volunteered to help during this sewing session!
Session 3
Spring Fruit & Vegetable Trays
Final trays were completed by the 8th Grade groups.
Students taking Food Classes at the High School voted on the winners. View
the trays and the award winners.
Sewing Scenes from 3rd Quarter
View projects completed during the 3rd quarter.
A Trip to the Pre-School
Students get a chance to visit the BPS pre-school program and facilities. They observe all the care givers and staff in action.
And this helps them evaluate careers that would focus on child care.
Session 4
A Grand Finale from 4th Quarter
Highlights . . .
Fruit and Vegetable Trays
Students searched for fruit and vegetable tray ideas, put in a grocery order (or purchased), and organized a
fruit/vegetable try. Various cutting procedures and tools were used. The theme - Spring time.
The final results were photographed and a slide show was created. It was also shared with student enrolled
in Foods FACS classes at BHS. Students at BHS evaluated and select the top trays. Comments were also shared.View
the results and see how you would have voted!
Students follow sewing directions & create a few fun projects.
Preschool Visit (Child Care/Careers)
Students interacted with the preschool kids while viewing a variety of types of play. All enjoyed the playtime,
but a few thought it might be a possible future career also.
Return to Classroom Showcase Table