Classroom Showcase - 8th Grade
External pages are not endorsed by Beatrice Public Schools.
Session 1
Biscuit Basics (2018-19)

Students practice using various tools as they proceed to make some buttermilk biscuits. Added to their tool box were biscuit cutters created by each student using a new Technology program and printed off with the 3D printers. New terms and following quick bread directions were also demonstrated.
​
Fruit & Vegetables on Trays (2018-19)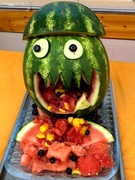 After viewing videos on various ways to cut and present fruits and vegetables, 8th grade FACS students searched websites for some creative fall fruit & vegetable tray ideas. Groups then selected a favorite and brainstormed how they could reproduce the idea using fruits and vegetables, along with terms and tools practiced. Final results were fun to prepare and amazingly presented. BHS Foods classes and a few staff & administrators will be the judges for this year. So come back to see which trays were voted as the "TOP" presentations!
Top Votes went to. . .
Coming in as Runner Ups . . .
Also receiving Honorable Mention. . .
Preschool Field Trip - Playtime and Careers (2017-18)
Students visit the BPS Preschool program. They were able to interact with the students and get first hand experience in a child care career. Students were able to view classrooms and teachers at work. A few felt like this would be a good career choice, but others were not sure. Either way students enjoyed their visit to the new BPS preschool program.
Sewing Scenes
Session 2
Session 3
Session 4
Return to Classroom Showcase Table