Classroom Showcase - 7th Grade
Classroom Showcase - 7th
External pages are not endorsed by Beatrice Public Schools.
Session - 1 (A few Food Highlights!)
Serving Up Some Zucchini Breakfast Cookies
Students prepare zucchini cookies for their first lab this quarter. Watch as they focus on reading directions to measure accurately,use correct tools, and complete each step. Safety and sanitation are demonstrated during each lab.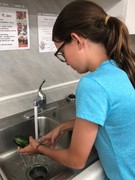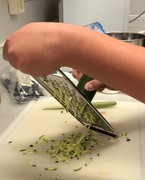 Recipe Link: https://www.littledairyontheprairie.com/zucchini-breakfast-cookies/
Superhero . . . Nutrient Style
After reviewing information about the nutrients in each food group, students selected one and created a project that represented the information. A variety of projects were presented . . . slideshows, posters, cardboard representations,games, and even a few costumes (for Halloween!). Along with the presentation, each student selected a recipe which included high amounts of their nutrient. A few brought in samples for all to try, so superheros are not only good for you, but taste yummy!
Here are a few samples, with more in the classroom . . .
What is one thing that you can do that will help you . . . Brighten Your Day, Refuel, Energize, Make you More Alert, Help you to Focus, Suppress Midmorning Cravings? And only takes a few minutes? BREAKFAST of course!!
Yes, we discuss the importance of breakfast, make a classroom breakfast, and each is challenged to prepare or help prepare a family breakfast.
Menu: Muffins & a Fruit Smoothie
Session 2 (A Few Sewing Highlights!)
During each quarter, 7th grade students get a chance to practice using the sewing machine. The start is slow, trying to stay on the lines of a sheet of paper. Gradually they advance to threading the machine and sewing on fabric. And finally they sew a selected project that goes home and will stay with them or is presented as a gift!
Following directions, organizing ones time, and measuring are all part of the project. Difficult, frustrating, but well worth it as projects are happily taken home. Here are a few of the final projects completed during 2nd quarter . . .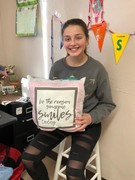 More Equipment to try . . .
Students had a chance to use the sewing machine, for many this was their first experience. But also new to try was a Go Accuquilt fabric cutter. This helped students cut the trim for their pillows - much faster and so much more accurate. Ann, owner of Quilt Stitches, also brought in an embroidery machine to complete a few of the T-shirt pillows with their names.
Session 3
Session 4
Return to Classroom Showcase Table