Classroom Showcase - 6th Grade
External pages are not endorsed by Beatrice Public Schools.
Classroom Showcase - 6th
Session 1 (A few Babysitting Highlights)
Students Create Babysitting Activities in FACS
View the Fun!
Students get better aquatinted with babysitting responsibilities.This includes selecting safe and age appropriate toys and activities. View play time activities created during the first quarter.
Students Make Play Dough for the Job!
View the Play Dough Steps & Results
Students enter the FACS lab setting. They start by following the procedures and expectations as they correctly measure each ingredient carefully. Safety and sanitary tips were always in focus. Each student enjoyed taking the results home.
Several stated that they would be making more for those that they are in charge of. All had fun!
Session 2
Babysitting Fun! by 6th FACS - Session 2 (2018-19)
Student discuss the importance of playtime for kids. Then create a fun activity using leftover materials or recyclable items.
The play topic ends with students going into the lab and mixing up some play dough.
Creating Some Fun . . .
Making some playdough . . .
Students Enjoy Kitchen Practice
Students start with kitchen safety and sanitation. They also gain measuring practice as
they read and follow the recipe steps. Hopefully, they will continue the practice while at home helping out with family meals!
Session 3
Babysitting - Be Prepared for accidents that may occur on the Job!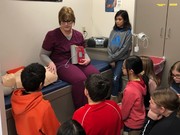 During this unit, students cover various safety topics. Such ascreating a mini first aid kit for babysitting,information about an AED. demonstrate how to perform the Heimlich Maneuver, when & how to contact the Poison Control, and how to do "Hands Only CPR. Again, discussion and a little practice take place.
But only practice, can help students become GREAT babysitters. So once again, the hope is that these students will be able to share in the care of younger children before going out on their own!
4th Quarter
Return to Classroom Showcase Table